2017 Anchorage Runfest Summary
The Anchorage Amateur Radio Club has supported the Anchorage Runfest for the last 8 years.
This year was no exception.  And what a great opportunity for field training it is.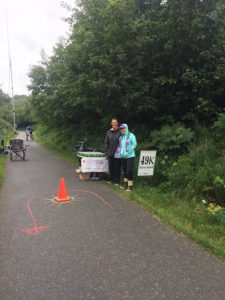 The races were on Sunday, August 20th.  The course consists of a 5k, a half marathon, a full marathon and relay.  There was even a 49K (30.4 mile) Ultra event with 120 signed up.  Total participants for the event was 2,600 this year.  It is a fun event with entertainment at most water drops along the way.
The Runfest actually began on Thursday at the Beartooth Theaterpub with a running movie called "Boston the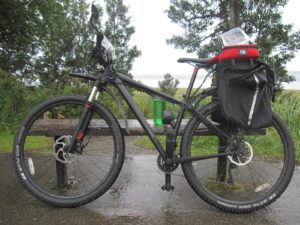 Documentary".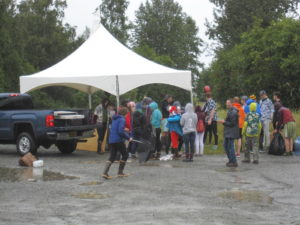 There is a Health and Fitness Expo on Friday with many exhibitors.
Family Health and Safety Day happens on Saturday with a couple of Mile runs and a Kid's 2K event.  
We activate on Sunday morning, and being such a long event, early radio volunteers begin arriving between 6 and 6:30 A.M. to set-up the net control position in the race staging area with remote checkpoint radio operators arriving at the various water drops at different times.  Final volunteers are able to leave the course by about 3:30 P.M.  
General radio traffic consists of requests for supplies, announcing lead runners, and medical issues if there are any.  We have one bike mobile (KL7TS) operating on the far reaches of the course between AWWU and the 49K turn around which is half way up Kincaid hill.  Bear spray is on hand for the bigger pests, but none was needed this year.
This year was a rainy year which gives us the opportunity to train in adverse conditions.  
I would like to thank all the operators that volunteered to help with this event.
Lara Baker AL2R
Fred Brantingham WL7IJ
Pat Gionson KL3JH
TJ Sheffield KL7TS
Dave Webb N9AIG
Emily Rohwer KB7AMA
Craig Rohwer KF7PFN
Allen Abbott KB1QCE
Jan Abbot KB1QCD
Ray Hollenbeck KL1IL
Walter Yankauskas KL7WY
Larry Bettis KL3UL
Dan Knapp KL4CX
George Wilkinson KL1JJ
Christian Penn KC3DBK
Bob Etheredge KM4EB

To learn more about the Anchorage RunFest, check their website.
Keith Clark, KL7MM
Race Communication Coordinator