AARC currently funds the Grubstake wide-area repeaters, which provide coverage across the Matanuska-Susitna Valley and into Anchorage.
Grubstake Repeaters
Frequency
Tone
Callsign
Features
Coverage
Status
147.33 +
103.5
WL7CVG
Cross-banded to 443.900
Very wide Area **
Grubstake Mtn. north of Wasilla and Palmer
Up
443.90 +
103.5
WL7CVG
Cross-banded to 147.33
Very wide Area **
Grubstake Mtn. north of Wasilla and Palmer
Up
If sufficient funds are not available, the Grubstake wide-area repeaters will be shut down due to financial constraints. In addition to monthly rental charges, there is a premium charge for getting to the repeater site by helicopter when things go wrong or simply for annual inspection and maintenance.
Thank you for your support! Contributions will keep the Grubstake Repeater Site operational through:

As many of our members may know, these repeaters serve a very, very wide area. From far north in the Mat-Su Valley, to the Anchorage bowl, and even to the Kenai Peninsula, they serve us well. They are important for general ham service, but more importantly, they play a critical role from an emergency communications perspective. The weekly ARES net is even held on 147.33/83 repeater. If the repeaters are "turned off", there's no guarantee that they will be, or even can be, turned back on.
We ask for your support to keep the repeaters alive. We need on average about $2,300 per year to operate these repeater systems. So, if you believe these repeaters should be funded and kept alive, we ask you to contribute to help the effort. We also urge you to contact your friends and neighbors, hams and non-hams alike to help.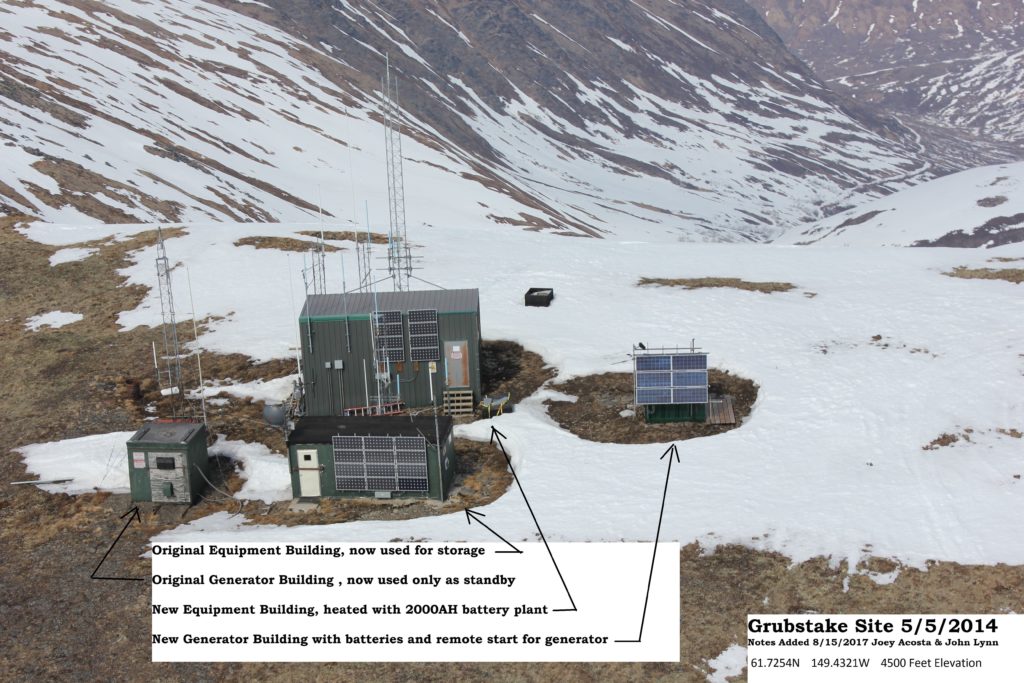 As of April 18, 2020, Joey Acosta of Arcticom stated that they have been on 100% solar for about the last 3 weeks with no need for the diesel generator to fire up.
The following individuals have made contributions to support the ongoing operation of the repeater system. Funds go to lease tower space, transportation, and maintenance costs.
Supporters
Anonymous
Mark K Allan
Chip Andrews
Donald Bush
Susan Canfield
Keith Clark
Adam R Corneliussen
Vernon Dotson
Stephen Geddes
Jacquelyn Cozette Green
William J Grimes
William Harris
James Jenckes
Ron Keech
Robert and Tena Lewellen
Shelly McCormick
James Neans
Tyler D Nicholas
Christopher Nugent
John Orella
Kent Petty
Sally Pollen
Carol Ryan
TJ Sheffield
Richard Tweet
Jen VanEttinger
David Webb
Brian J Wotring
James T York
Thanks so much to these folks for helping to keep the Grubstake Repeater on the air!