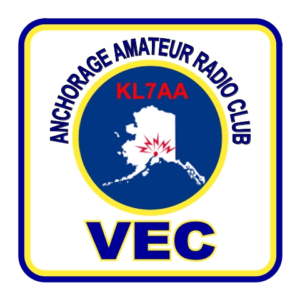 The Anchorage Amateur Radio Club sponsors testing for all classes of Amateur Radio license, operating as the Anchorage ARC Volunteer Examiner Coordinator. The Anchorage ARC VEC was the first VEC in the nation to be certified, and likewise was the first to give an exam.
Contact the VEC Chairman:
Brandin Hess, AL6I
E-Mail: vec@kl7aa.org
Telephone: (907) 987-6716
Mail: Brandin Hess, AL6I
Chairman, Anchorage ARC VEC
P.O. Box 1283
Kodiak, AK 99615
Anchorage ARC VEC policy statement
Brief History of the VEC Program
The VEC Mission Statement
There are several links listed on this page (below). Use these links to learn about the various aspects of the testing programs we offer, and to find a Volunteer Examiner close to you. We hope you will take advantage of the opportunity to join the ranks of Amateur Radio Operators – the greatest hobby in the world!
If you have questions about Amateur Radio in general or specific questions about the testing program, you may send an e-mail to us. We will respond as soon as possible and thanks for visiting!
Effective October 7th, 2019 the Anchorage ARC VEC moved forward with electronic, web based testing for any of our sites that have the capability to utilize the service.  
Anchorage Amateur Radio Club – Main Page
Fee for testing
How do I become a VE?
How do I learn the Morse Code?
Morse Code Examinations
Remote Testing
Renewal of expired licenses
Testing – Where
To whom we administer exams?
VE List
VE Guide
What happens after I pass my examination?
What to bring to a testing session
Where do I obtain instructional materials?