SHORT NOTICE – Need Help With Gun Show Table
John Lime, KL4OF, reports that he still needs help manning the table he purchased for the club at the Alaska Gun Collectors Association 2019 Gun Show being held at the O'Malley Sports Complex this Saturday and Sunday.  John has club items that will be for sale as a fundraiser for the club.  He's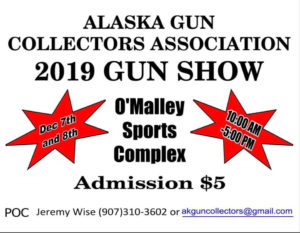 hauling everything in and setting up but needs folks to take some shifts during the day, ESPECIALLY SATURDAY (tomorrow).
Items for sale include some CB radios, scanners, assorted electronics and some antenna components that are excess to club needs.  There will be food and other items available from other vendors and chairs are provided. 
Hours for the event are 10:00 a.m. to 5:00 p.m., but we as vendors can get in early.  John is in desperate need of help and we are short on bodies, so if you have a couple of hours to spare, please give John a call to help out.  We would all appreciate it.
You can reach John at (907) 441-7088 (voice or text), or via e-mail at jflimeiii@gmail.com.
Kent, KL5T