AARC WX3in1 APRS Digipeater / I-Gate Configured and Being Tested
As part of our Hillside South location upgrade and to replace the old KL7AA APRS Digipeater/I-Gate formerly operated from the club station, we purchased a Microsat WX3in1 APRS Advanced Digipeater/I-Gate the better part of a year ago.  We've finally been able to move the project forward due to the efforts of Kevin Opalka, KL2NV.  Kevin picked up the pieces of the project about a week ago during Working Wednesday, and by the end of Working Wednesday this week, the unit was up and operating for a testing period.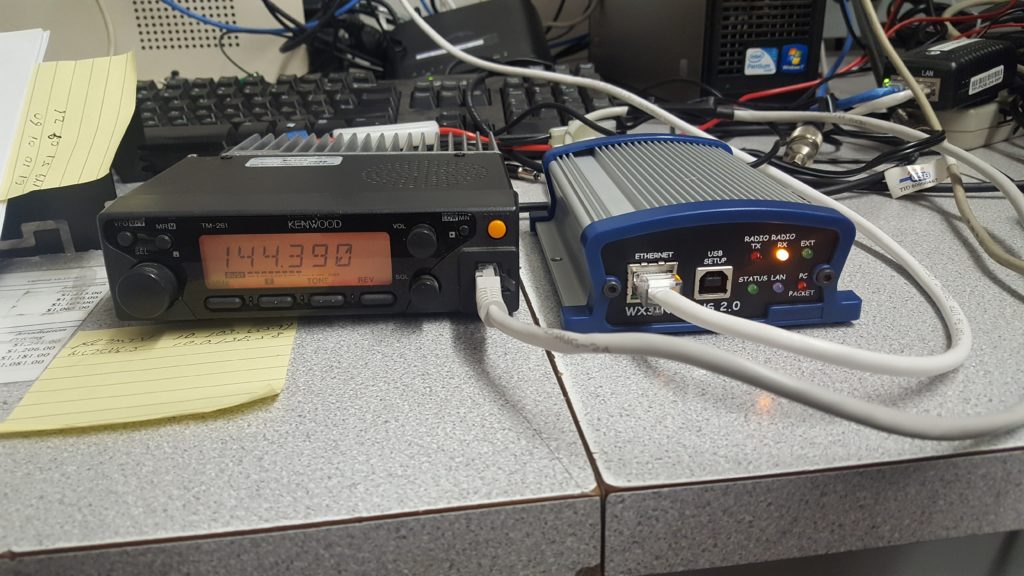 The WX3in1 is a stand-alone APRS Digipeater/I-Gate (click this link to learn more about the unit).  It's effectively a TNC specifically designed for APRS operations.  It requires a computer for initial configuration, then after that, is able to operate stand-alone while connected to a radio.  In addition to direct APRS functions, it can also accept a thermometer connection, a full weather station connection, and has its own web browser GUI.
It was a team effort led by Kevin this week, and even included assistance from Tom Delker, K1KY in Tennessee (remember Tom, our MESH network mentor?).  Kevin updated the firmware, set parameters on the unit, and made appropriate physical connections between the unit and a Kenwood TM-261 transceiver.  Based on K1KY's input and advice, we checked the deviation of the unit's output and found it to be highly over-deviated.  We backed it down accordingly, and then promptly got the digipeating and I-gate functions operating.  Even Corny Eastman, KL0FK, got in on the action with help setting up the station monitor for deviation adjustment.  The unit is connected to the MESH network and is actually gating APRS positions to the web via the AARC MESH.
The plan is to keep the unit running at the club station for about a week.  Once we confirm that everything is operating as planned, we'll move it to its permanent home at our Hillside South location at KL7QN's residence where it will be connected and controlled over the MESH network.  We already have a 2-meter antenna in place at the site just waiting for the WX3in1's arrival!
If you'd like to learn more about APRS or the MESH, please drop an email to mesh@kl7aa.net.
73,
Kent Petty, KL5T