RSOC Hosts Air Force 673 CS for Exercise Noble Skywave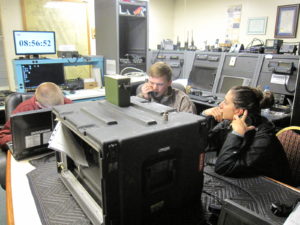 The Anchorage Amateur Radio Club (AARC) played host to Elmendorf Air Force Base's 673 Communications Squadron (673 CS) during Canadian-sponsored Communications Exercise Noble Skywave this week at the Radio Science and Operations Center (RSOC).  This 33 hour event challenged Canadian, United States, Central American, Caribbean, Middle Eastern, European, Australian, and New Zealand military communications units to contact as many other participating stations on HF over the course of the event as possible.  Points were earned for each contact, with extra points earned during certain periods of the exercise for contacts with stations in different and distant time zones.
The teams were allowed to use in-place or temporary antennas from any source, but required that they use their own radios.  The 673 CS team used their own radios, set up one of their own antenna systems on the grounds of the RSOC, but also heavily relied on RSOC antennas during the competition.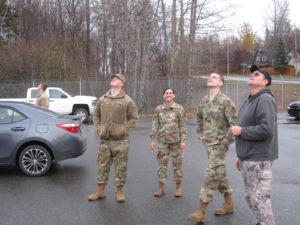 The airmen of the 673 CS did a great job.  They were on-site prior to the exercise to set up equipment and provided full on-the-air coverage for the duration of the event.  They rotated teams of 3 and 4 individuals and worked hard to strategize and make comms with as many other stations as possible.  The results speak for themselves, especially considering they ran in the low power class (less than 150 watts) and had to deal with the extremes of far north propagation!  Here are how things shook out:
Overall Rank: 23rd out of 89 stations worldwide
Overall U.S. Rank: 3rd out of 35 stations (the 2 stations that ranked above the 673 CS were in a higher power class)

U.S. Rank in their operating class "Up to 150 Watts": FIRST out of 24 stations
See the Noble Skywave website to learn more about Noble Skywave and to see the final standings of this year's event by CLICKING HERE.
The leadership of the 673 CS should be very proud of their folks.  They had a can-do attitude and did all they could to maximize the effort.  And, most importantly, learning happened!
From the Anchorage Amateur Radio Club …. CONGRATULATIONS on a job well done!
73,
Kent Petty, KL5T
Vice President