The Anchorage Amateur Radio Club (AARC) Board of Directors commissioned a new logo for the Radio Science and Operations Center tonight at their monthly Board of Directors meeting.  Better known as the "RSOC", the facility is the center of our organization and operations ranging from radio science experimentation, to teaching radio school, and operating the facility as our Emergency Operations Center.  The RSOC was the former FCC's monitoring station in Anchorage.  It was ultimately abandoned by them and turned over to the State of Alaska, and now is in the fortunate hands of the AARC under lease from the State.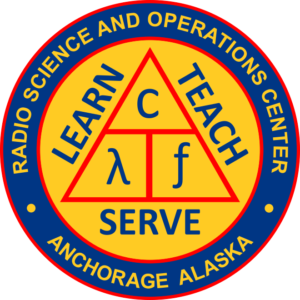 Ideas for the logo were presented to Riley Petty, KL4RP for conversion to a scalable vector graphic suitable for a number of purposes including web page usage, patches, banners, signs, etc.  Riley wrangled through no less than 25 iterations and improvements leading to the final rendering of the finished graphic.  The new graphic incorporates a similar color palette as that of the beloved AARC logo, but is bolder in its use of gold as a predominant color.  The finished product is intended to represent what the purpose and ongoings are at the RSOC, in that our Learning, Teaching, and Serving revolve around radio science.  Does the central triangle make sense to you?  It should, as it is indeed the essence of what we do!
Please note that KL4RP is the 15-year-old daughter of the author of this post.  She is taking a course in graphic design this semester as part of her home school curriculum.  Dad is no doubt proud of her progress.  I think there is a good chance for an "A" in this subject?!
The new logo has already been pressed into service on a new banner for the RSOC which should be positioned by this weekend.  Sample notebooks and mousepads have even been created using the logo. 
If you would be interested in cool swag incorporating the AARC logo or new RSOC logo, drop info@kl7aa.org a line to let us know!  Coffee cups, T-shirts, Ball Caps, Mouse Pads, Pens, Notebooks, etc. could be made available if the interest is there.
73,
Kent Petty, KL5T
Vice President