33cm Portable Operations in KL7CU's Driveway
From:  Craig Bledsoe, KL7H
May 5, 2022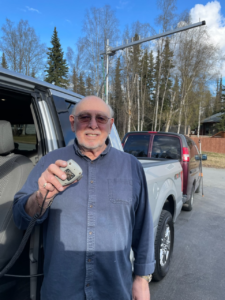 Here are some photos that I took of Mike Masters, KL7CU, operating on 927.5 MHz FM during tonight's edition of the South Central Simplex net (SCSN). I had just received the commercial 33cm Yagi antenna on my front porch courtesy of a stealthy dropoff by Scott Frost, KL4NU. To get all of this to work on short notice, we set up a tall tripod in the bed of Mike's pickup truck with the commercial Yagi professionally mounted to the top with wads of duct tape and counterbalanced by bungee cords.
The Kenwood radio was sitting in the driver's seat as shown in two of the photos so that we could access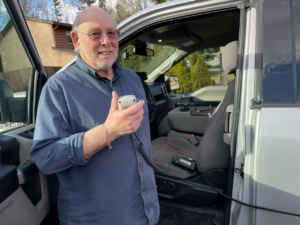 12VDC to run it from the cigarette lighter socket on board. This was a total kludge, but it worked! By the way, these photos were copied from Mike's cellphone, so I had to use Windows Photo Viewer to open and look at them.
73,
Craig, KL7H