A Really Big Day, Up and Away!
Saturday was a busy, busy day at the RSOC.  A dandy crew of folks got together to tune up our AB-105 tower with a proper accoutrement of antennas, from 20 meters through 1.2 GHz.  
This was a challenging project in that the mast on that tower inherited from the FCC is really tall and had 4 old FCC monitoring antennas mounted on it (not sure of the frequency range).  That mast is too tall to reach those upper antennas, and I just didn't have the gumption to try to shinny up that thing (I'm a big scaredy-cat), so we elected to rent a 65' aerial lift (thanks to all who contributed $$$ for the rental at the club meeting Thursday!).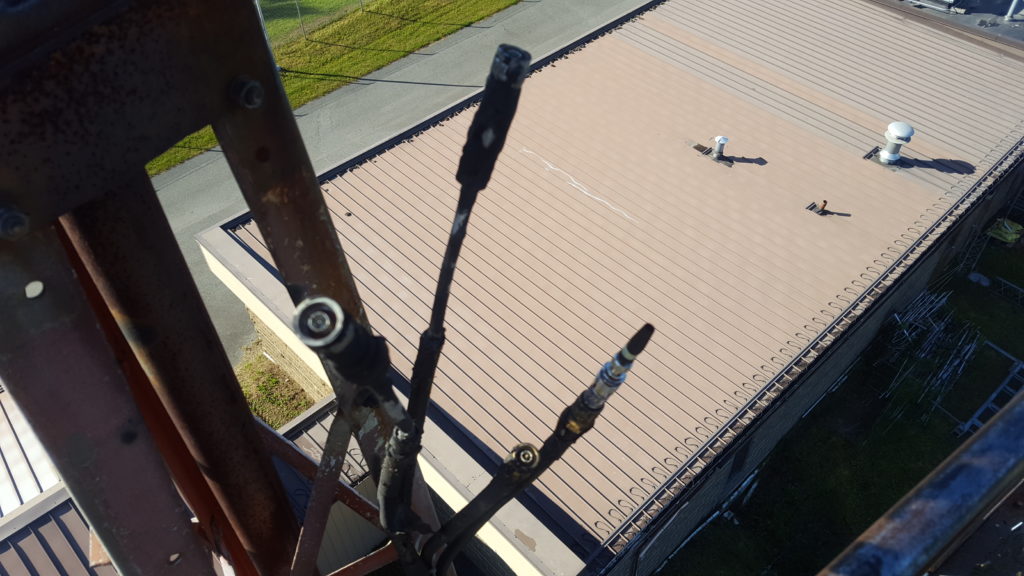 The aerial lift really did the trick.  The rental company showed up on time with the rig, and after a quick check out, we got to work.  We had a crew on the ground prepping a SteppIr HF Yagi, a Comet VHF/UHF Dual Band GP-9 Vertical, and a log periodic good for 6 meters through 1.2 GHz.  While the ground crew was prepping, I attacked the antennas up on that mast and didn't have too difficult a time getting them down.  The toughest part was digging into the industrial strength wrap/sealant over the connections to the hardline and Heli ax feedlines to get them undone.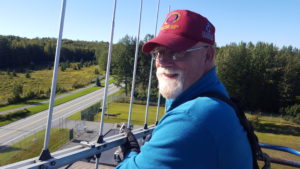 After the old antennas were removed, we started installing antennas from the top of the mast down.  First was the Comet GP-9 on top.  This went up without a hitch.  Then came the log periodic which we mounted as vertically polarized, then finally the big gun, the SteppIr yagi went up; and yes, we added the extra 6-meter element.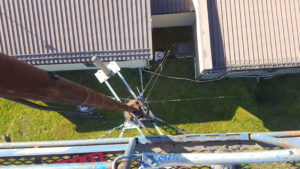 As is typical on these adventures, nothing ever goes exactly as planned.  Let's see, first was the boom to mast plate for the SteppIr …. it had to be redrilled.  Then there was a dropped nut and/or washer or two (look out below!).  Then there was the bad jumper installed on the log periodic to connect to the Heliax.  Then lastly was our inability to find the blasted hardline feeds in the basement of the RSOC that run up the tower.  We ended up installing a new feedline to service the yagi.  We'll find that darn hardline eventually.
As everything went up, TJ, KL7TS, ran the antenna analyzer and set up the SteppIr control box.  In the end, everything is working as it should and we finally have our HF yagi in service.
There were a lot of folks that helped out throughout the day, so I hope I don't miss anyone here.  In addition to TJ and me, other members of the crew included:
Keith Clark, KL7MM
Mike O'Keefe, KL7MO
Dennis Stevens, WL7AQ
Walter Yankauskas, KL7WY
George Wilkinson, KL1JJ and son
Kevin Opalka, KL2NV
73,
Kent, KL5T