Anchorage KL7AA DMR Repeater Back On The Air
By: Kent Petty, KL5T
September 8, 2021
Thanks to the efforts of Kevin Opalka, KL1V, the Anchorage DMR repeater is back up and on the air effective this afternoon, September 8, 2021.
The repeater suffered a receiver sensitivity issue some months ago and was taken off-line.  Mike Melum, KL6M, retuned the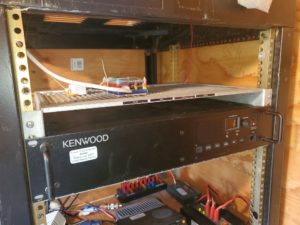 cavities and we located a replacement repeater transceiver.  Kevin programmed the new transceiver and he and Kent Petty, KL5T, reinstalled and tested the repeater today.  As far as we can tell, the unit is functioning properly with excellent coverage.
As a reminder, here are the specifics about the repeater:
Callsign:  KL7AA
Frequency:  444.20 MHz +
Tone:  None
Color Code: 1
Timeslot 1: Open for any Brandmeister dynamic talk group
Timeslot 2: Alaska Statewide (TG 3102) and Anchorage (TG 311181) are active full time.  Please do not activate any other talk groups on time slot 2.
Location:  Near Flat Top Mountain, South Anchorage Hillside.
Coverage:  Anchorage to Wasilla, Nikiski, Sterling.
Please visit https://kl7aa.org/repeaters/ for information on other area repeaters.  If you are aware of any repeaters that are active in the Anchorage and Mat-Su areas that are not listed, please drop a note to info@kl7aa.org with the particulars.
73