DMR Guide and DMR / DStar Repeater Info
By: Kent Petty, KL5T
November 18, 2021
Are you new to DMR, or thinking about getting into DMR?  John S. Burningham, W2XAB has DMR primer book out titled, "Amateur Radio Guide to Digital Mobile Radio, 2nd Edition".  John provides an excellent explanation of the many new terms and concepts related to digital voice communications. The book is free for download here:  http://guide.k4usd.org
Remember, the Anchorage ARC operates a DMR repeater located on the South Anchorage hillside.  Actually, the repeater will ALSO operate on DStar.  Here are the particulars:
Repeater Receive Frequency:  444.20 MHz
Repeater Transmit Frequency:  444.90 MHz
DMR Info: 
Color Code: 1
Timeslot 1: Open for any Brandmeister dynamic talk group
Timeslot 2: Alaska Statewide (TG 3102) and Anchorage (TG 311181) full time.  Please do not activate any other talk groups on Timeslot 2
DStar Info:
RPT1: KL7AA B
RPT 2: KL7AA G
Not linked to any reflector by default.  Access to all reflectors and XLX modules is permitted
And here is an estimated coverage map for the repeater: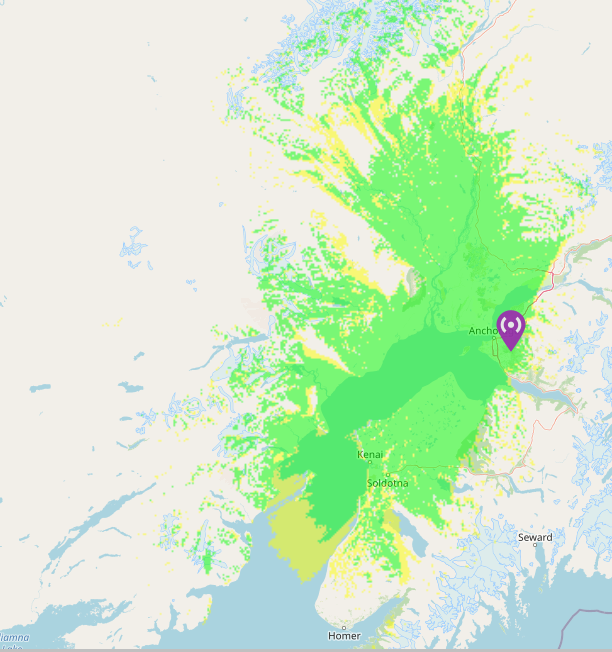 If you are interested in DMR gear, CQ Radios offers excellent deals on AnyTone radios as well as excellent hotspots. 

The AARC is an Affiliate Partner with CQ Radios.  Use our discount code of "AARC10" at checkout to get a 10% discount.  This will also benefit the club! Here is their main page:  https://cqradios.com/
73,
Kent, KL5T