Club Stuff – Hoodies, T-Shirts, and Many Other Items
By: Kent Petty, KL5T
Want to sport a new AARC or RSOC Hoodie?  These and similar items are available on the club's Café Press store.  It's a great way to support the club and get our logos out there on display.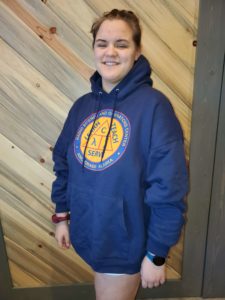 Here's KL4RP showing the elegance of the new RSOC hoodie in Navy Blue.  I must say it's pretty good quality.  The hoodie is made by Hanes, is cotton, has metal eyelets for the drawstring, and just seems to be a pretty good product. 
Here's a link that will take you directly to the men's hoodie:  https://www.cafepress.com/aarcrsoc.661341267
You can get to the front of the store by going here: https://www.cafepress.com/aarcrsoc
Products are available with the traditional AARC logo, the RSOC color logo, the RSOC monochromatic logo, and the Anchorage ARC VEC logo.  
Enjoy!