HOT OFF THE PRESS: New AnyTone AT-D878UVII Available at CQRadios.com
By: Kent Petty, KL5T
May 3, 2021
The new Anytone AT-D878UVII Plus is here! The is the latest AnyTone DMR UHF/VHF handheld and only available presently at CQRadios.com. While the price is great to begin with, because of a partnership with the AARC, you can use coupon code "AARC10" to get an additional 10% off of the $247.00 list price. Oh, and shipping is free! This radio is currently only available at CQRadios.com!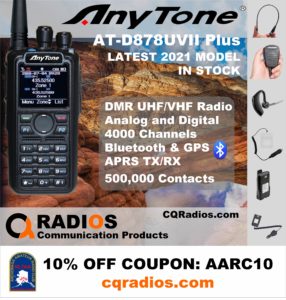 This is the new AT-D878UVII VHF/UHF dual-band Anytone analog and digital radio comes with repeater roaming capabilities, GPS, and many other features. This transceiver has a 1.77-inch color TFT display with an easy-to-use menu structure. This is a DMR ready radio with a large memory for future enhancements and storage. This radio is ideal for amateur radio, Fire stations, Search & Rescue, EMS, Police, Sheriff, Forestry, Security operations, and many other applications. The UV plus comes with Bluetooth allowing it to work with a headset for convenience.  Additional accessories are also available, including the AnyTone speaker/mic.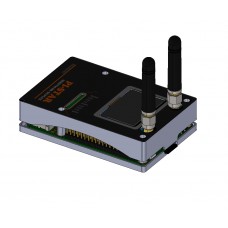 But there is more! Do you need a hotspot to go along with the radio? CQRadios also offers the Boomerang 3 DMR Dual Band Duplex Pistar Hotspot. This unit is fantastically priced at $125…..it's in the neighborhood of $300 for similar units found elsewhere. Again, get 10% off when you use the "AARC10" discount code at checkout…yes…free shipping as well!
This Pistar DMR hot spot uses a duplex MMDVM board with dual antennas to provide both time slot 1 and 2 monitoring. This unit uses a large OLED screen for better viewing. The Boomerang 3 provides both wifi and RJ45 network connections and comes in a 3D printed case. This unit is designed to provide the best possible performance for the money.
Click here to get to the AT-D878UVII
Click here to get to the AnyTone OEM speaker/mic
Click here to get to the Boomerang Hotspot
Click here to get to the CQRadios.com main page
Remember, use code AARC10 at checkout to get 10% off your total price.  And shipping is free!