Site Summit Repeater Upgrades and MESH Install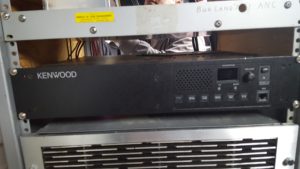 A big work crew attacked the Site Summit 147.30/90 repeater site yesterday.  Mike, KL7MD, facilitated site access and Dave, AL7LO led the effort to rewire the entire repeater and packet node installations (Eagle and Eagle -4).  The radio room was cleaned up, a couple unused racks were moved, and the whole arrangement was reorganized.  A 3.4 GHz MESH network node was installed, exterior RF cables were tidied up, and the facility as a whole was swept up and debris removed.

Other members of the crew were Ron (KL7YK), Don (KL7JFT), Scott (AB5JB, Scott's two boys and XYL, and Kent KL5T.

This was a big effort and everybody really worked well together to get this project taken care of in short order.  Well, actually, folks were on site for most of the day!  Thanks to all for the outstanding effort!
73,
Kent, KL5T