WL7ATC Tower and Antenna Donated to AARC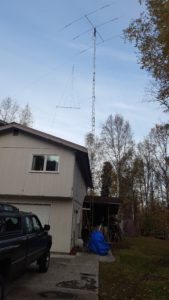 We mobilized a crew on Saturday morning (9/30/2017) at 1000L at Susan's home in Peters Creek.  Susan asked us to take down the 50' crank up tower and associated antennas used by her husband (George, WL7ATC).  George has been a silent key for about a year now.  Susan is graciously donating the tower, antennas, and some other gear to the club.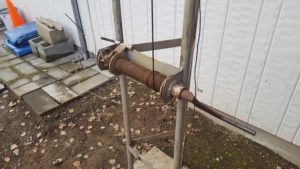 John Lime (KL4OF) and his two sons, Robert Haus (KL3ZS) and I got to work on time to get after it.  We put together a plan and order of operations to pull down this Tri-Ex crank up tower.  Atop the tower was a Cushcraft A3S tribander.  After a little banging and coaxing, we manager to raise the tower enough to remove the lowest set of chocks and started cranking it down.  We got it down to roof level, removed the A3S, then tilted the tower over to the ground for final disassembly.  The tower, guys, cables, rotor, antenna, and assorted pieces and parts were organized and loaded up for transport back to the club station.  We were done by about 1300L.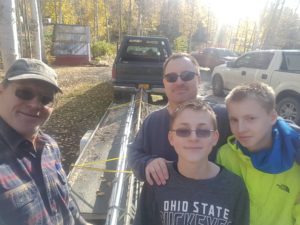 Thank you, Susan, for your generous donation, and thanks to the club members who took time out of their day to help with the effort.
73,
Kent, KL5T