Looking for APRS Options Without a Radio?
By: John LIme, KL4OF
Written:  April 10, 2022
Most of us know roughly what APRS is, or at least have heard of it. Some of us are pretty knowledgeable about it and some even have dedicated radios and other related hardware for running it in our vehicles or uploading the data from others onto the APRS.FI website. Are you interested in learning more about it? How about running your own APRS node? I have a 2-meter radio and an APRS "controller" that I need to set up in my new vehicle, but what to do when in the wife's car? Or when on foot/bike/ATV? 
I have known about an IOS app (iPhone and iPad only for this app) for a while, and I pay them $1.99 per month (it is run by the same group that runs the APRS.FI website), but this weekend I took a trip with the wife from Anchorage to Delta Junction and remembered to turn the app on before I left.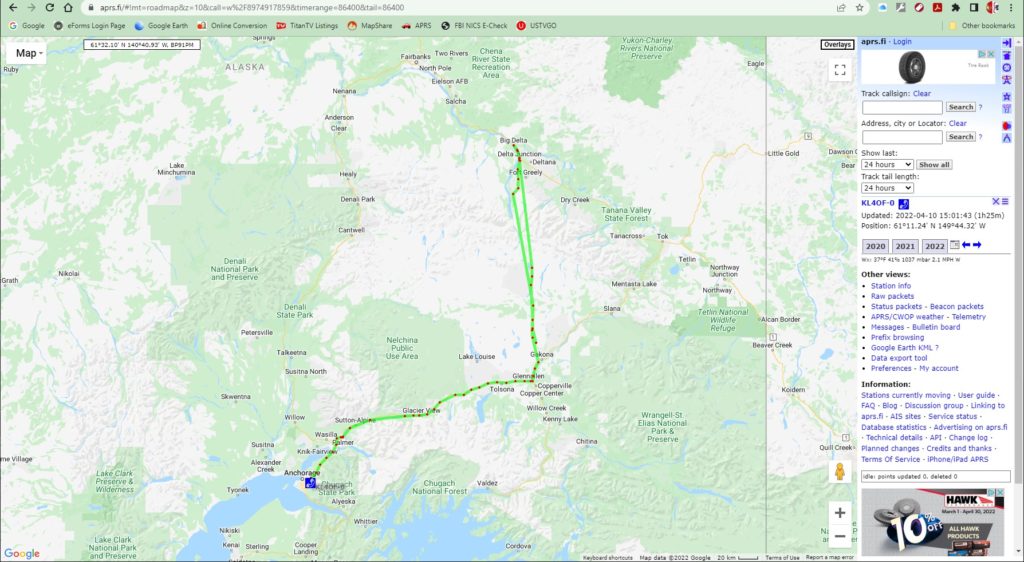 I had it running on my phone with my InReach app and the Apple Music app (because we all know, there's little to no AM/FM radio on that drive) at the same time. Both the APRS.FI app and the InReach app tracked our travels without issues (well, mostly, the InReach app turned its tracking off on the way back for some reason). If you look at the APRS.FI website and pull up the dates 04/09/2022 and 04/10/2022 you will see a track to/from Delta Junction for me (KL4OF-0) with a little blue phone icon. After talking to Kent (KL5T), using the APRS.FI website on your phone/tablet will work as well, but it has to be the active app/screen, or it won't update your position.
I just wanted to share this as an option for those looking into APRS or wanting more choices in that area. In the Apple App Store, look for APRS.FI.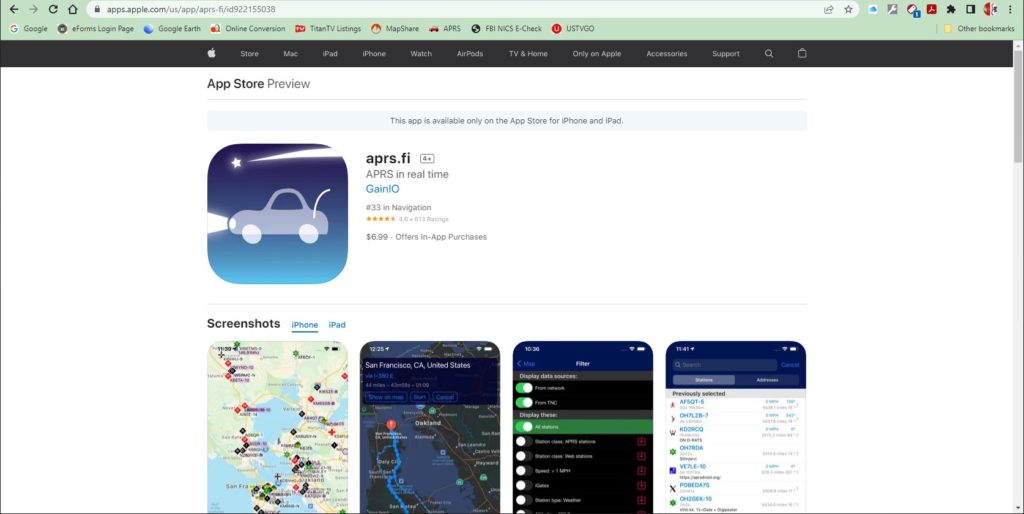 It is free to use to track others but to transmit your location, there is a fee ($1.99/month, if paid yearly it's a bit less). I have Googled "APRS apps" and found other options for both Apple and Android products, so there are other choices, I am just sharing my experience with the one I chose to get.