New Hillside Node Installed
Thanks to Bruce Chandler, KL7QN, for graciously hosting a site on his property for club installations.  The first happened today!
KL7MM and KL5T installed a brand spankin' new Ubiquiti 120 Sector antenna with a 3.4 GHz M3 radio on the tower complex.  This unit faces due west and focuses coverage from the south of Anchorage to mid-town.  Also installed was a Ubiquiti AirRouter which will accommodate a future APRS digi/gateway that will be linked to the internet via the mesh.  The unit has great links with the Anchorage club station, the ANMC Tuttle Warehouse, ANMC Hospital, Providence Hospital, and the EARS Clubhouse on Elmendorf.
The purpose of this installation is to provide redundancy for the other hillside node located at AL4G's place just to the north of the KL7QN site.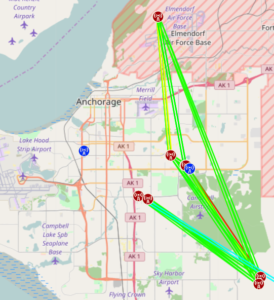 We also intend to install UPS units on all our mesh nodes.  A UPS typically used for any computer workstation is adequate and will run a mesh node for days.
Equipment has already been purchased for additional node installations at the Anchorage Pioneer Home and at KL7SB's place near the Anchorage Senior Center.
If you'd like to learn more about the AARC's mesh network, or would like to stand up a node of your own, please drop us a line at mesh@kl7aa.net and check out our MESH Page.  Your installation will not only give you direct access to the mesh, but will also help improve the robustness of the entire network!
Regards,
KL5T