AREDN MESH Networking Fun
I had an experience tonight that provided me with a little amazement.  It spoke to the robustness of the AREDN MESH networking protocol, equipment, and capabilities.  Here's my little story.
Tonight, as I waited for my daughter to finish her swim session at the Bartlett High School pool, I was waiting in the parking lot in my car.  I happened to have Ubiquiti NanoStation M3 unit with me that is planned for installation at the Search and Rescue (SAR) Cache facility off Tudor Road in the next few weeks.  I needed to "flash" Amateur Radio Emergency Data Network (AREDN) onto this node to ready it for the install.  FYI that Tom Plawman, KL4RQ, is our ARES Emergency Coordinator for SAR Liaison and he is the lead on this project.  Tom is also President of the Alaska Search and Rescue Association (ASARA).
I went through the process of flashing the node and it went off without a hitch.  I also thought I might actually be able to connect to our MESH network from there in that Bartlett parking lot because I've done so during the past two Gold Nugget Triathlons.  However, during those events, I set up a node on a proper tripod with a good aim at our node atop Site Summit.  This time, all I could do was hold the node in my hands and point it at Site Summit from inside my car in the driver seat, shooting through the front windshield.  Well, surprise, surprise, the red light on the back of the node lit up to indicate I had a connection!
However, I needed two hands to do a bit more configuring of the node, so what to do?  I didn't have a tripod with me, and I really didn't want to get out of the car due to our lovely frigid temperatures.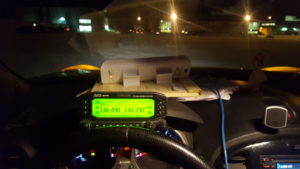 Instead, I simply decided to lay the node on its side on the dash of my car.  I thought for sure that I'd lose my connection, but not at all!  Instead, the good old red light stayed on!  I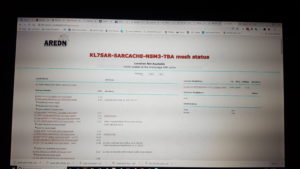 then checked the status of the connection to the Site Summit node, and I was still getting almost 13 Mbps throughput!  I then did a check of our internet feed and got nearly 2 Mbps reported!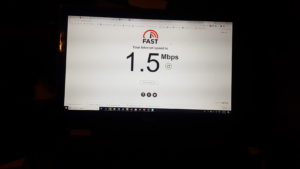 I was able to navigate to other nodes on the mesh, was able to use some of the services on the mesh, including MeshChat, Winlink, and even did some file transfers, all without a hitch.
I think this goes to show how robust all this gear is.  It was a simple setup, and "aiming" was clearly not an issue!  This is what we've found all along when it comes to this exciting technology.
We now have MESH nodes up at 12 locations with more on the way.  Several of these sites have multiple nodes installed.  We are primarily operating on 3.4 GHz, but also have a couple 5.8 GHz links established, and have more gear ready to install.  Services on the MESH include Winlink, MeshChat, VOIP telephone service, file server, remote printing, APRS hosting, and more.
If you'd like to learn more about the Anchorage AREDN MESH network, drop a note to mesh@kl7aa.org, or stop by the RSOC on a Working Wednesday or Saturday.
73,
Kent Petty, KL5T
AARC MESH Network Manager